Struggling to Sing? Get Solutions
Do you need help  singing the songs you love effortlessly?
Are you frustrated by your lack of range, style or poor tone?
Do you find yourself fatigued, tense, or in pain when you sing for too long?
Are you beginning to doubt your own abilities as a singer, believing you don't have the natural talent to sing?
Do you want to develop your own unique voice?
Do you struggle to be creative, writing melodies to lyrics and vice versa?
Are looking for voice lessons in Rochester or anywhere else in Monroe County?
If you're struggling to master your voice, I understand how you feel. In fact, many people who've come to me doubted they could sing at all.
The world of voice has always been obsessed with the idea of natural talent and Rochester is no different. They say you've either got it or you don't.
I have found that this is far from the truth. If you're taking voice lessons in Rochester and your teacher says another singer is talented because she has a natural gift, then I suggest you stop seeing that teacher.
That teacher is not going to be able to help you reach your goals.
Natural talent is an excuse for singers to stop learning to use their vocal system properly.
All my students now know, they can become great singers and WILL become great singers. It doesn't matter what age you are and it doesn't matter what you sound like now. All that matters is your desire to grow and improve!
Let me prove that you can sing.
1. A free lesson and a guarantee
You will receive a free trial lesson. During this lesson, I will analyze your current singing abilities (your strengths and weaknesses). With your goals in mind, I will build you a path to success.
I offer a 30-day money-back guarantee to anyone whose voice doesn't improve at all in the first month.
I am the only voice teacher in Rochester who offers these extra benefits.
2. Build confidence in your voice
In order to be convincing when you sing and express emotion, you need to sing with confidence. To sing with confidence, you have to know that every aspect of your voice is going to be there when you call on it.
Being able to sing with confidence is about being able to sing with consistency. We need to remove the unnecessary thing's you do in order to hit notes. These include pushing, straining, tilting your head, scrunching your nose, tensing other muscles, and much more. The less you have to do to hit notes, the more consistent your vocals will be.
3. Reduce strain and improve stamina
Trained singers and those with natural talent a like learn to manage tension in order to maintain their voice and sing the way they desire.
Singing should be free, not contrived.
Strain and tension will eventually cause pain, discomfort, limit your singing ability and damage your voice permanently. My top priority as a voice teacher is to teach you to sing with as little tension in the wrong areas of your voice as possible.
When you can sing while properly managing your tension, your voice will improve ten-fold. On top of this you will be able to enjoy singing a lot more when you don't need to push or hurt yourself.
The technical side of singing is my specialty. No other Rochester voice lessons will go into as much depth about the physical act of singing.
4. Increase your range by 2 to 3 octaves
It's not hard to increase your range or get a four octave range. The humans voice has limits, but they don't differ from person to person.
Anyone can have a range of 4 octave range or more.
Many people believe range has to do with natural talent. This is just an excuse. Again, if you have a teacher who praises "natural talent," I suggest you stop seeing him, as you won't receive the support you need to grow.
5. Learn to write great lyrics
Most Rochester voice lessons will never teach you how to compose great lyrics. Lyrics are a huge part of being a singer and shouldn't be ignored.
Typically, people think of good lyrics as magical moments and you can't teach someone to write great lyrics.
The emotion comes from inside you, but the lyric is a tool you use to express that emotion. Studying lyrics will help you craft a unique style of writing, help you reach another level of musical expression and prepare you properly when you have that magic moment of inspiration.
6. Master your vocal system
Do you find yourself creating the same predictable, generic melodies over and over again? There's an easy solution to this. You need to learn to control the mental side of singing.
Singing itself is a physical act, but music is not.
You need to learn control over melody, harmony, rhythm and phrasing, then learn to apply and integrate them together. This is what will develop your sound and make you a great singer.
7. Don't settle, for cookie cutter lessons
I tailor all of my lessons to your personal needs and goals.
Not planning on songwriting? Alright, we will put that aside. Want to learn how to add grit or belt? Cool, I will write that into your lesson plans.
At the end of every lesson, you will receive lesson notes that will tell you what goals you've met, your next top goals, current assignments and my suggestions to help you improve further.
You will also receive pdfs of all lesson content to help further your understanding and allow you to focus on learning, rather than taking notes.
I will also give you personalized workouts to guide you through your vocal journey. This way you know exactly what you need to do when you practice.
8. Develop a sense of fulfillment
When you see the progress you've made with your voice, and your ability to write better lyrics and songs, I can guarantee you will be excited.
There is nothing better than learning to develop and master your craft. It will enrich your life.
9. I am dedicated to you
You will have someone on your side who wants you to see you succeed. It is too common for teachers to ignore their students' desires and ambitions, sweep their questions to the side or ignore their struggles. 80% of teaching is about people, only 20% of teaching is about material. I consider it more my job to help with this aspect than actually teaching you.
If you're ready to take the first step towards reaching your goals, then I want to learn more about you! Click on the button below, fill out the form on the next page ,and tell me more about yourself!
Chris Glyde (Guitar Instructor) "The Benefits to Taking Voice Lessons in Rochester with me!"
Ryan: "Chris has helped me increase my range, strengthen my voice, and learn more about my voice. His lessons are extremely fun."
Brigette: "I've taken lessons with 5 different vocal instructors and Chris is, by far, way better than any of them. I've been taking lessons for about a year and some months now. I've never stuck with a voice teacher as long as that, because I've never seen the progress that I've seen with Chris."
Jaimi: "I've had 3 voice teachers locally in the last 5 years, and I've been receiving private instruction. Never have I had such rapid and noticeable growth in my voice. I've been hired with professional companies that I couldn't get cast in before! Chris is organized with his lessons and always has a plan designed especially for you."
Dawn: "I've been a musician all my life and when I decided to start taking singing lessons I'm glad I found Chris. He has showed me how to bring out my true voice and to utilize my support system to have me sing properly without straining or sounding off key when playing in my band. I never knew I had it all in me the whole time, until he showed me the proper way, and lessons are fun too!"
Taylor Smith: "Upon starting voice lessons with Chris, I was surprised both by the teaching method, and by how well it worked. Only one lesson in and I was getting noticeable results. Chris does a wonderful job of providing clear structure to his lessons, giving the tools needed for effective practice between lessons, all the while keeping the process simple and enjoyable. I am excited to see how much more I can improve under his guidance!"
---
So what are you waiting for? Voice lessons in Rochester are available now!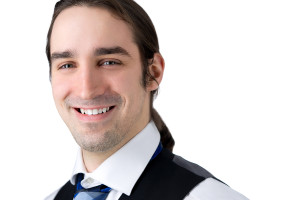 Chris Glyde, Voice Instructor